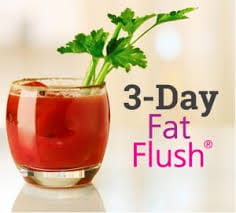 Dr. Hyman is the author of such health and wellness books as
10 day detox
and
the Blood Sugar Solution
. He has a new
3 day fat flush diet plan
that is meant to flush your body, switch from fat storage mode to fat burning mode and increase your metabolism.
The following shopping list is a guide for your meals during the 3-Day fat flush diet.
Download/Print this shopping list
here and take it with you to the grocery store.
Vegetables

Asparagus
Broccoli
Brussels Sprouts
Cabbage
Carrots
Celery
Chopped Kale
Onions
Seaweed
Shitake Mushrooms
Spinach
Turnips
White Radish Root
Winter Squash

Fruit

Blackberries
Blueberries
Raspberries
Strawberries

Nuts & Seeds

Almonds
Macadamia Nuts
Pecans
Pumpkin Seeds
Walnuts
Almond Butter
Unsweetened Almond Milk

Protein

Beans: Fresh or Canned
Chicken: Boneless, Skinless Breast
Fish: Sardines, Herring, Wild Salmon, Black Cod or Sole
Tofu

Oils

Coconut oil
Flax Oil

Spices

Fresh Ginger
Garlic