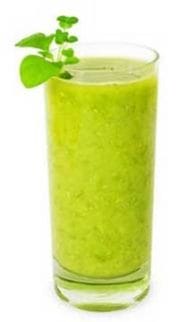 The Green Drink is one of dr. oz's favorite recipes,
dr. oz's green drink
is high in fiber, rich in vitamins and it also has low-calories. This breakfast drink can jump start your mornings, it has a strong taste so if you used to drink sweet tea or soda, you'll like its taste.
Ingredients
2 cups Spinach
1/2 Cucumber
1/4 Head Celery
1/2 Bunch Parsley
3 Carrots
2 Apples
1/4 Orange
1/4 LEmon
1/4 Lime
1 Bunch Mint
1/4 PineApple (Or Canned)
Directions
Place ingredients in a blender, and mix all together and its ready to Serve.You can add 4 oz. spring water or a handful of ice cubes, to make a couple of glasses of Dr. Oz's green drink.
Dr. Oz suggests adding other items at first to sweeten the green drink to your taste, these ingredients are optional: 2nd cucumber, raw carrot, unsweetened fruit juice and banana.