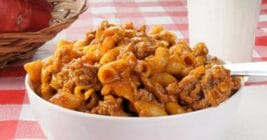 Not only is this mac recipe delicious, it also contains lots of the nutrient Lycopene, which has been know to reduce the risk of stroke in some people. However, unique take on mac & chili will put taste first and foremost in the minds of your family and friends. The combination of the two taste sensations cannot help but be a hit for people who have enjoyed them separately for years.
Dr. Oz: Chili Mac
Ingredients:
½ cup diced green pepper
½ cup diced sweet onion
1 tbsp canola oil
1 tbsp minced garlic
½ cup diced red pepper
¼ tsp ground thyme
½ tsp black pepper
½ tsp salt
1 lb lean ground turkey breast
1 tbsp Dijon mustard
8 oz. ketchup
6 oz. whole grain pasta
1 tsp agave nectar
1 tsp sugar-free rice vinegar
2 cups crushed tomatoes
1 tsp hot pepper sauce
½ tsp ground cumin
Cheeseless sauce for topping
Preparation:
Coat a large non-stick saute pan with the canola oil and put on medium heat.
Saute the onions until golden brown, then add the garlic. Add the red and green peppers and saute until the peppers are nice and tender.
Crumble the turkey and add to the mix and season with the salt, black pepper and thyme. Continue stirring the turkey as it cooks until it is done.
Then add ketchup, Dijon mustard, agave nectar and vinegar. Now add the pasta, cumin, tomatoes and hot pepper sauce. Mix thoroughly and cook for about 5 more minutes before serving.
Total amount of protein: 18 grams
Total number of Fiber: 4 g
Total number of calories: 200
Total number of carbs: 37
Total amount of Sugar: 3 g
Total amount of Sodium: 420 mg
Total amount of Cholesterol: 25 mg
Total amount of Saturated fat: 0 g